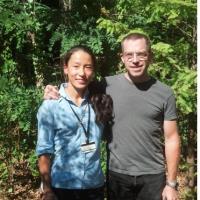 George Kenty
City: Winchendon, MA,
Email Address: gkenty@gmail.com
About Us
George "Geo" Kenty took New Entry's Farming Business Training Course in 2011. He and his partner, Jenny (pictured), eventually purchased land and a solar powered house in Winchendon last year. Geo is proud to say that the house is completely off the grid, so overall, his farm has a pretty small environmental impact.