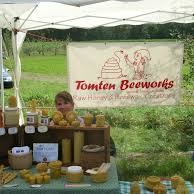 Tomten Beeworks
Contact: Mary Mansur
City: Amesbury, ,
Email Address: ginger.turner@tufts.edu
About Us
About Us
The Tomten Beeworks is located in the quaint coastal community of Amesbury, Massachusetts. Beekeepers Mary and Dave Mansur have been keeping bees for about 25 years. During that time, Mary has built a loyal following of customers for her hand crafted beeswax candles, suncatchers, honey pot, raw liquid and creamed honey, and an excellent honey-beeswax soap.


Practices
Our bees are kept using natural beekeeping processes, never using pesticides and always approaching the bees with the utmost love and respect. Every time we are with the bees, we are overwhelmed by the amount of love and sacrifice that each of these admirable creatures show for each other. We do our best to enter into that same mood of love.